ISLE OF BUTE'S CONTRIBUTION IN BRITAIN'S WAR



BRITAIN'S WAR



British Prime Minster Mr Neville Chamberlain declares war on Germany in an Address to the Nation on 3rd September 1939

It is Sunday 3rd September 1939. At approximately 11.00am wireless listeners to the BBC are alerted to stand by for a statement by the Prime Minister, Mr Neville Chamberlain. Hitler had been given an ultimatum to withdraw German forces from Poland. Across the nation, families nervously gather around their wireless sets. Then, at 11.15am, the Prime Minister comes on the air and solemnly announces....

(Audio clip - courtesy BBC) If the audio player does not open click here.


NAVAL INVOLVEMENTS
1. SALVAGING OF MARINE CASUALTIES IN THE WESTERN APPROACHES
Clik-enlargeable images of these two vessels can be accessed in the Historic Gallery.


Upon moving from Liverpool, the Liverpool & Glasgow Salvage Co. became headquartered in Port Bannatyne, and was responsible for all marine casualties in Western Approaches. Its ocean-going tugs brought back countless torpedoed vessels including the Greek ship Leonidas del Varmis, the Dutch ship Volendam (carrying 325 children all who survived, with only one crew casualty), the Coronda (more than 20 bodies or part-bodies buried in North Bute), the San Demetrio (of war-movie fame - see photo right), and the Imperial Transport (only half of which, miraculously, was brought into Kilchattan Bay - see photo left). Families, skeleton crews of all ships, as well as salvage personnel, shipwrights and divers etc. stayed on the island. Two tugs, Zeehound and Zeelu, smuggled families on board and sailed right out of Belgium.



2. SUBMARINE FLOTILLAS

The 7th Submarine Flotilla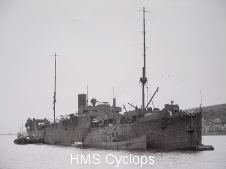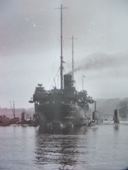 HMS Cyclops (commissioned in 1907, scrapped July 1947, 2x4" guns, displacement 11,300 tons), served as the depot ship for the Royal Navy's 7th Submarine Flotilla, and was home-based in Rothesay (1940-46). It had been re-deployed from Malta (where it lay mothballed) at the outbreak of the war. It also accommodated allied submariners who had escaped from Poland, Holland and Norway. Wrens worked on board mostly performing administrative duties. Cooks and stewards on Cyclops were Maltese. The Earl of Dumfries (heir to the 4th Marquess of Bute) was a cypher officer aboard Cyclops. 95% of all British submariners trained in Rothesay.

Click-enlargeable images of HMS "Cyclops" home-based in Rothesay Bay can be found in the "Historic Gallery".


The 12th Submarine Flotilla

The Headquarters of the Royal Navy's 12th Submarine Flotilla HMS Varbel was located in the 88 bed-roomed Kyles Hydro Hotel in Port Bannatyne, the hotel having been requisitioned for this specific purpose. The base at Port Bannatyne, the only British base for midget submarines and human torpedoes, used the protection of the port and the secure waters of Loch Striven a short distance to the north, for sea trials and training exercises. [Note: midget submarines (X-craft) and the human torpedo were designed for the same purpose, namely, to attack enemy shipping while in harbour and to render these ships inoperational].


Historic successes of the Bute-based subs and human torpedoes include the memorable attack on the Tirpitz (see left) and the sinking of the Italian cruisers Ulpio Triano and Bolzano. A total of 39 men were killed while serving on these craft. (War Memorial names here). It is a testimony to the bravery of these men that 68 awards were gained on active service, including 4 Victoria Crosses. Bute Museum is now the home for HMS Varbel's bell.

A full memorial record is on permanent display at St. Ninian's Church in Port Bannatyne, where a memorial garden was officially opened at the end of June 2005 as part of Bute's 60th V-Day Anniversary Commemoration programme.

Source of photographs: Tirpitz; Midget interior; Midget underway on the surface

A comprehensive list of links dealing with midget submarines (X-Craft), and particularly the attack on the Tirpitz &nbsp&nbspHERE

A description of Britain's only remaining example of an X-craft that saw service during World War 2 &nbsp&nbspHERE

Enlargeable images of these and other 12th Submarine Flotilla X-Craft and be accessed HERE.




3. CLYDE STEAMERS













Altogether 9 Clyde Steamers were requisitioned. Those that continued with the Wemyss Bay-Rothesay service needed to follow very strict sea lanes due to the mines that were laid in the Clyde. The photograph on the left shows the Jeanie Deans' paddle steamer in its commercial role; and the right-hand photograph shows it in camoflage after requisition. Clik-enlargeable images of these two vessels can be accessed in the Historic Gallery.



4. BOOM DEFENCE / ANTI-SUBMARINE NET IN THE CLYDE ESTUARY


A boom defence office was located on Rothesay Pier, and this office liaised with the Gourock boom control centre that operated the mile-and-a-half-long boom across the Clyde between Cloch Lighthouse and Dunoon (enlargeable photograph right).

"Preparations for the erection of the boom were begun soon after Munich, and when war broke out the great steel net was ready to be put into position and thus seal off the Clyde anchorage: Its row of floats has been noted with interest by thousands of war-time visitors to the Clyde. Of course before any U-boat could have neared the net its approach would almost certainly have been heard on the Asdic sound detectors and out-post ships farther down the Firth formed an additional protection to the Emergency Port. The boom was completely replaced six times during the war, and eight boom defence ships were in continuous service night and day. It cost £1,000,000 and made impregnable the Clyde anchorage, sheltering at times some of the greatest concentrations of shipping the world has ever seen. It was only natural that in nearly six years of war incidents occurred to relieve the monotony of the men of the guardships and these incidents were usually associated with the alarm system. So delicately adjusted are the alarms that any contact with the net set off a series of rocket flares and lit up the waterway. More than once a small boat inadvertently touching the boom set off the flare. One night when the alarm was raised the intruder was discovered to be nothing more deadly than an old basking shark." (Source)


5. REPAIRS/FLOATING DOCK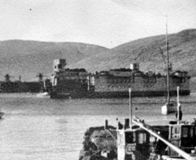 Local boatyards and a floating dock in Port Bannatyne (photo left, enlargeable) were used for ship repairs and the construction of harbour defence vessels. The floating dock was also used for the servicing/maintenance of Midget Submarines, and probably for their concealment and for security at certain times, and for putting the final critial preparatory touches to the craft immediately prior to their deployment on their top-secret missions (photo right,enlargeable). Several Admiralty Floating Docks (AFD) were at times based in Kames Bay - AFD 7 1941/43, AFD 20 1943/44, AFD 19 1956/1957, AFD 22 1947/56.

There was also a small de-gaussing range (neutralising the magnetism of submarines) located in Port Bannatyne.





DECOY VILLAGE FOR CONFUSING ENEMY BOMBER ATTACK
At the north end of the Isle of Bute a decoy village was constructed and maintained by the Royal Navy. Wooden frames about 7ft. long by about 5 or 6ft. high with windows were erected between the field at the Bull Loch and round to Balnakelly Burn. 6 or 7 Navy Personnel based at Rhubodach House operated the electric generators. The 'village' was illuminated at night in an attempt to confuse enemy bombers, and hopefully to draw them away from Greenock or Clydebank. No bombs fell on Rhubodach, although a German plane returning from the Greenock blitz jettisoned 2 bombs near the Greenan Loch.
The site is very difficult to find at present, as it became heavily overgrown (being in a very remote/uninhabited part of the Island). More information about Bute's decoy site/s can be accessed &nbspHERE and in more general terms &nbsp HERE.

A click-enlargeable colour image of this installation can be found in the "Historic Gallery"



LOCAL TERRITORIALS
Local Territorials (Bute Territorial Army) were mobilised on 1st September 1939, left the island in October 1939, and as 202 Anti-Tank Battery went across to France in January 1940. Many of them, assigned to the Royal Artillery 51st Highland Division, were either killed or taken prisoner at St Valery en Caux, June 1940. Two survivors of the Bute Battery were still living in Rothesay (as at June 2005) but it isn't known whether or not they have deceased since that date.
&nbsp A survivor's story.



COMMANDO TRAINING
French Canadians along with 9th (Scottish) Commando used Bute's beaches (and Inchmarnock) to train with tank landing craft in preparation for D-Day. Image (left) depicts the badge of the Canadian Commandos who trained on and around Bute. (enlargeable image)







EVACUEES
"With the inevitability of war having loomed over Europe for months, Glasgow, like all big cities in Britain, had made contingency plans for moving children to safer places away from the danger of enemy raids. So within hours of Prime Minister Chamberlain's announcement that Britain was at war with Germany, 876 children plus teachers and helpers arrived in Rothesay on the "Jeanie Deans"; and later that afternoon the "Jeanie Deans" brought another 650 children. Then on the Sunday, just an hour after war was formally declared, two paddle steamers landed another 1600 children at Rothesay pier" (source: Jess Sandeman - "Bute's War"). Upon arrival evacuees were taken to the Rothesay where they were provided with a hastily-prepared meal and then billeted in private homes. Billeting was an official decree and anyone with spare roomes had to comply. Under this Government scheme households accommodating evacuees were paid 10/6d per week for one child, but just 8/6d per child where more than one was billeted. This allowance was for all meals, but did not cover clothing or medical care. In addition about 700 voluntary evacuees stayed with friends or relations and made private arrangements. Primary School education was strained to the limit as a result of this influx. (enlargeable image in Historic Gallery)



BUTE'S HOME GUARD
Bute's Home Guard, the real Dad's Army, spent many long hours night after night up on the hillsides or on the moors doing their bit for the Island's security and protection. Although their contribution was trivialised in the BBC TV series "Dad's Army" they really did a splendid job (even if they sometimes incurred the resentment of the odd local resident who had been 'caught' transgressing the strict black-out restrictions). The photograph on the right depicts Bute's Home Guard marching down Victoria Street in Rothesay. (click-enlargeable images)



REQUISITIONING AND BILLETING
Apart from those already mentioned (Kyles Hydro Hotel, 9 Clyde steamers, etc.) many other establishments were also requisitioned, including the Royal Hotel, the Bute Arms and Tign-na-Mara. Servicemen, as well as reportedly some ex-Polish government officials were billeted in many private homes.



OTHER
A large canteen for the forces, operated by the Church of Scotland and manned by volunteers, was open all day in the West Church Hall.


Captain Eric Morley (R.A.S.C. Entertainment Officer) was stationed at the Bute Arms (he later ran the Miss World events); Leslie Crowther (the actor) was privately evacuated to Hilton Farm on Bute.


Rothesay at the time had 3 cinemas which, in addition to numerous dance venues, provided welcome entertainment and relief both to stressed locals and to Bute-based military personnel alike. Regular entertainment was arranged in Rothesay's Winter Garden (left); while Rothesay Pavilion (right) was the venue for many stage shows in addition to hosting 'big band' dances. (enlargeable images)




Bute's WVS Mobile Canteen, operated by local women volunteers, moved around Bute feeding the hungry commandos. (enlargeable image)





Searchlight Battery located near Kingarth where an army unit was based in nissan huts erected in the field opposite Kingarth Tilieries. From this vantage point the searchlight beam, powered by diesel generators, could sweep across the Firth, to the Cumbraes and beyond. A glance at the map shows the wide arc of vision that Kingarth facilitated.
V-DAY
There were jubilant scenes during VE and VJ celebrations in Rothesay and elsewhere on the island. HMS Sceptre (sub on the left in image on left)and HMS Volatile (sub on the right in image on left) were alongside their Rothesay home-based depot ship HMS Cyclops (image right) instead of the usual 6-8 submarines - all indicative of the rundown to the end of hostilities. One can only imagine the uninhibited celebratory excitement and exuberance aboard HMS Cyclops, joined by the crews of HMS Sceptre and HMS Volatile, and the other subs alongside Cyclops. (enlargeable images)




Further historical material,
together with many more ENLARGABLE PHOTOGRAPHS,
can be accessed &nbsp HERE
.

JESS SANDEMAN'S BOOK "BUTE'S WAR"

As stated at the beginning, this is but a basic outline skeleton. It is onto this skeleton, however, that much more detailed 'flesh' was added by a local researcher who produced a book "Bute's War." This book was also one of the projects supported by the Heritage Lottery Fund grant towards Bute's 2005 commemorations. The book by Jess Sandeman (deceased August 2009), who was a War veteran, a former Chief WREN, and a long-time voluntary genealogist at the Bute Museum, was launched early in June 2005 to coincide with Bute's V-Day festivities. A photograph taken at the Official Launch of the book at the Bute Museum, and showing Jess responding to Mrs Anne Buchanan's introduction, is shown on the left; and a copy of the book's front cover is shown on the right (click images to enlarge).

In addition to sections elaborating on all the above, and including many illustrations, Jess's book also has sections covering inter alia the following:

Life on Bute during the war years
Rationing and related issues
HMS Cyclops and the 7th Submarine Flotilla
Port Bannatyne
The Home guard and other volunteer groups
St Valery and Bute's P.O.W.s
Training of Submariners and the role of the X-Craft Midget Submarines &nbsp&nbspMore details here
Army and commando training
Accidents in and around Bute
The position of Non-British Nationals on Bute
Entertainment for the Forces on Bute
Bute after the War

The book also provides a detailed glossary, a bibliography, and a list of films of interest.

As an additional project, copies of this book were distributed free-of-charge to all school children on the Isle of Bute.

Such was the demand for Jess's book, that it was sold out in less than a year. However it has been reprinted, and copies are available by contacting the Bute Museum by email, or telephone 01700-505067 (£5.00 plus P&P where applicable).


Note: Acknowledgements for photographic material used on this page can be accessed by clicking "Resources" on the menu bar.



DISCLAIMER: Although the content of this website has been researched with the utmost care, any liability on the part of 'Bute-at-War', or any other individuals involved with the website's development, arising out of any inaccuracies contained in material produced for this website (including its forums) or in linked websites, is expressly excluded.

Copyright © , 'Bute-at-War', All Rights Reserved.