&nbsp Isle of Bute 60th Anniversary &nbsp


V-Day Commemoration

23rd - 26th June 2005



Click here to see Events Poster
This free script provided by
JavaScript Kit
BACKGROUND TO THE 2005 V-DAY COMMEMORATION PROGRAMME
In the same way that no part of Britain can honestly assert that it was immune from, or untouched by, the events of World War II, so too there cannot be many parts of Britain, especially on a geographic scale of only 15 miles long by 5 miles across at its widest, that can claim to have witnessed greater and more-varied military involvement than the tiny Isle of Bute (click for location map), strategically snuggled amongst neighbouring islands and mainland peninsulas in the western waters of the Clyde Estuary. Yet the historical record, which has heroism, sacrifice, ingenuity, commitment and compassion emblazoned across it, had become increasingly at risk of fading irretrievably into oblivion.

It is in this context, of a spectacular story to be told and an imperative that it should never be forgotten among succeeding generations, that an application was made to the Heritage Lottery Fund to seek funding for a programme of events to commemorate Bute's wartime involvements, as part of Britain's 60th Anniversary of V-Day celebrations in 2005. The Lottery's "Home Front Recall" Fund very generously allocated a sizeable sum to Bute's commemoration programme, and the establishment of the predecessor of this website (now much expanded) was just one of the many projects for which funding was approved. Its purpose is to communicate Bute's story to as wide an audience as possible, and to facilitate people sharing their wartime experiences and accounts of happenings on Bute.










Just a small selection of photographs of the weekend's events. Click images to enlarge.

Full gallery of photos here


Through comprehensive consultation and partnership-working, Bute's V-Day Steering Group (comprising over 25 members from virtually every community organisation and agency on the island, under the able and energetic chairmanship of Ken Colville) endeavoured to produce a programme of commemoration (see details below) that would, as comprehensively as possible, touch all the diverse elements in our community in as meaningful and relevant a way as possible. So there was something for everyone - from the youngest (those who have no conception of the sacrifices of their grand-/great grand-parents' generation), through the middle aged (who have varying degrees of anecdotal and/or textbook acquaintance of war-time living) to the very oldest (those who still have vivid and probably painful memories of what it was like to serve actively during, or just live through, those testing times. Moreover, the nature of our events offered a good balance of fun, nostalgia, serious reflection, thanksgiving, and the crucial educational component that sought to ensure that our commemoration would have enduring value.

Given the intensity of activities on and around the Isle of Bute, it isn't difficult to imagine and appreciate the extent to which the war impacted life at every level - from individual households, to the many voluntary organisations, to school life, to the corporate life of this hitherto rather insulated and parochial island-community as a whole. It is this legacy of dedication, adaptability and sacrifice on the one hand and open-hearted hospitality and compassion on the other hand that our programme sought not only to celebrate, but to etch into the memories of our current generation so that these recollections may be passed on to future generations.

A comprehensive gallery of photographs of Bute's weekend of commemorations can be seen here.



COMMEMORATION HIGHLIGHTS
Message from HRH The Prince Charles, the Duke of Rothesay:
&nbsp
&nbsp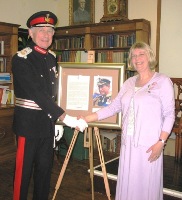 &nbsp

A special citation from His Royal Highness The Prince Charles, Duke of Rothesay was read out by the Lord Lieutenant of Argyll and Bute, Kenneth MacKinnon Esq., RD., WS., before a capacity congregation attending a special muti-denominational Memorial Service in Trinity Church on Sunday, 26th June 2005 (first picture on the left above). You can read the full text of the Royal message on official Clarence House stationery and personally signed by The Prince Charles by clicking on the small image (second left above). Lord Lieutenant MacKinnon returned to the Island on 16th July 2006 to formally present a framed copy of the original citation to the President of the Trustees of Bute Museum, Mrs Anne Speirs, (click thumbnail third from the left). A copy of the framed citation, providing appropriate details of the background to it, is a permanent exhibit in the entrance foyer of the Bute Museum (click picture on the right above).


Message from HRH The Prince Charles to the people of Bute





Jess Sandeman's book "Bute's War - How a small Scottish island met the demands of its country at war" - detailing wartime activity on and around the Isle of Bute, was published during the V-Day commemorations, and a copy of it was distributed to every school pupil on the Island. More details regarding Jess's book can be found by clicking on the "BUTE'S WAR" tab on the menu bar at the top of this page.



More commemoration highlights with annotated photographs, can be accessed here.



DETAILS OF EVENTS, VENUES, TIMES AND PRICES
Thursday 23rd June
Bute's War Exhibition: Bute Museum, Stuart Street, 9.30am - 4.30pm, £1.50 / £1.00 / 50p
Maritime Art Exhibition by Gordon Bauwens: Discovery Centre, 10.00am - 5.00pm, Free
Reception for WW2 Veterans: Glen Rosa Singers and Margaret Currie, St Brendan's Church, 7.30pm, Free. Tea and coffee served. Proceeds to SSAFA
Friday 24th June
Bute's War Exhibition: Bute Museum, Stuart Street, 9.30am - 4.30pm, £1.50 / £1.00 / 50p
Maritime Art Exhibition by Gordon Bauwens: Discovery Centre, 10.00am - 5.00pm, Free
"A nightingale Sang..." an evening of WW2 songs: Rothesay Castle, 7.30pm, £5.00 (Note: this event is sold out)
Saturday 25th June
Bute's War Exhibition: Bute Museum, Stuart Street, 9.30am - 4.30pm, Free
Maritime Art Exhibition by Gordon Bauwens: Discovery Centre 10.00am - 5.00pm, Free
Children's Parade and Street party: Guildford Square, 11.00am - 4.00pm
Arrival of PS Waverley at Rothesay Pier (WW2 evacuees and ex-servicemen; symbolic re-enactment): 1.40pm met by Mount Stuart Pipe Band
Glasgow Phoenix Choir: Trinity Church, 2.30pm, Tickets £7.00 / £6.00. Tickets from DC Murray, Fraser Gillies and Discovery Centre
World War 2 film: Discovery Centre, 2.00pm. Introduced by Johnny Beattie. £2.50 (tbc)
"The Big Family Night Out": Rothesay Pavilion, Tickets £8.00 / £6.00 from Discovery Centre, Compere Big Dougie...

• 7.00pm: Academy Swing Band
• 7.35pm: Bute Players present "Victory Dance" a series of sketches depicting wartime life on Bute
• 8.00pm: Academy Swing Band
• 8.35pm: Bute Players presentation of "Victory Dance" continued
• 9.15pm: A musical presentation by local musician, Margaret Curry
• 10.00pm - Midnight: "The 'King of Swing' returns". Harry Margolis and his Glenn Miller-style Big Band.
Sunday 26th June
Bute's War Exhibition: Bute Museum, Stuart Street, 9.30am - 4.30pm, Free
Maritime Art Exhibition by Gordon Bauwens - Discovery Centre, 10.00am - 5.00pm, Free
Laying of Wreath: Rothesay War Memorial, 10.00am. Mount Stuart Pipe Band
Joint Ecumenical Church Service, Trinity Church, 11.00am. Rothesay Academy Brass Band & Joint Church Choirs. Offering to Erskine Hospital
World War 2 film: Discovery Centre, 2.00pm, £2.50 (tbc)
Opening of the new Midget Submarine Memorial Garden by Commander John Lorimer DSO, Port Bannatyne: 2.00pm
"A box of delights for Bute" concert by Ayrshire Youth Voices: St Ninian's Church 3:00pm, £5.00, pay at the door, tea/coffee served, proceeds Red Cross


In addition to the above, two professional storytellers, registered with the Scottish Storytelling Forum, spent three days, preceding the weekend, in Bute's Rothesay Academy and three primary schools, conducting 12 sessions highlighting Bute's wartime involvements - making the historic events of that era really come alive for the younger generation who know very little about what life was like during the war.




DISCLAIMER: Although the content of this website has been researched with the utmost care, any liability on the part of 'Bute-at-War', or any other individuals involved with the website's development, arising out of any inaccuracies contained in material produced for this website (including its forums) or in linked websites, is expressly excluded.